T.E. Lawrence:
Tormented Hero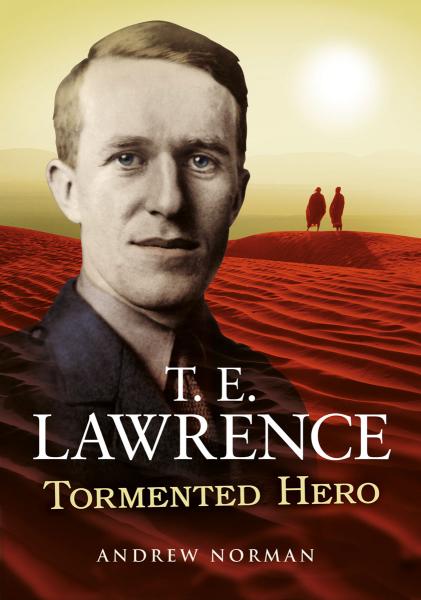 Why did 'Lawrence of Arabia', at the height of his fame, decide to become a virtual recluse? Was it because of some trauma that he had sustained during the First World War?
The story of T.E. Lawrence's inner struggle against the demons that tormented him, together with the most comprehensive investigation yet of his final motorcycle crash.
As a resident of South Dorset I have always been intrigued by T. E. Lawrence, who was once stationed at Bovington Army Camp, just up the road. I wonder why, for example, did 'Lawrence of Arabia', at the height of his fame, choose to shun the limelight and join the lower ranks of the armed forces, when he had formerly held the rank of colonel? What had so damaged him emotionally? What were the demons that tormented him? A possible explanation is put forward. Also, new light is shed on the circumstances surrounding the motorcycle crash that prematurely ended his life.
In T. E. Lawrence: Tormented Hero, Andrew Norman sheds new light on Lawrence of Arabia, who remains a mystery to this day. Lawrence's sexual orientation is discussed in detail, including his dislike of physical relationships, and it is suggested that he suffered from sexual aversion disorder. Evidence that he was beaten on several occasions, at his own request, comes from several sources and appears to be irrefutable. New light is shed on his fatal motorcycle crash in May 1935, and evidence is presented showing that it occurred in a different location and manner to that which is generally supposed. Photographs taken at the time are compared with the present day topography of the site to support this entirely new theory. Other aspects of his life which are discussed, include his relationship with his parents, notably his problematical relationship with his mother Sarah; his role in the Arab Revolt and subsequent disillusionment; his friendship with some of the literati of the day including E. M. Forster, George Bernard Shaw, and Robert Graves; his love for and veneration of Thomas Hardy; how Shaw's wife Charlotte, became his confidante; and how he took Lady Astor pillion riding on his motorcycle.
Publisher: Fonthill Media
Publication Date: 31st July 2014
ISBN: 9781781550199
Cover types: Paperback, Kindle
You May Also be Interested In:
These Books