Bound for the
East Indies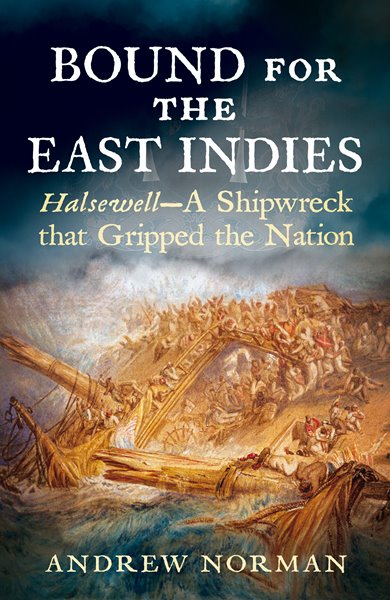 The former cliff quarries of Winspit and Seacombe on the Dorset coast are very dear to my heart, for this was our destination, on the very first outing that my wife, Rachel and I had embarked upon together. Here, lying against the cliffs like a buttress, is an enormous boulder which marks the site of a shipwreck which occurred here in January 1786.
It was local historian, Reg Savile who kindly showed me a wooden cabinet, and also a china cup bearing the arms of the East India Company which had somehow, survived the wreckage. The ship was the Halsewell, and she had been en route from London to India.
I learnt that Charles Dickens had written of the Halsewell; that the painter, J. M. W. Turner had painted a conjectural picture of her in her death throes, and that the King and Queen themselves had taken a keen interest and visited the scene of the disaster. And when a person who had dived on the wreck kindly showed me a golden chatelaine that he had retrieved, I was well and truly hooked, and determined to find out more about an event which captured the hearts of the nation!
Publisher: Fonthill Media
Publication Date: 5th December 2019
ISBN: 9781781557532
Cover types: Hardback
You May Also be Interested In:
These Books