HMS Hood:
Pride of the Royal Navy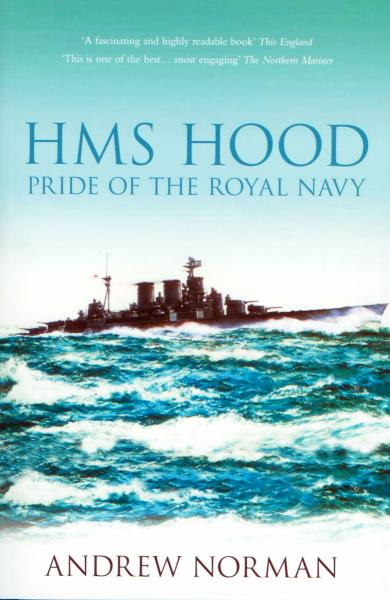 When the British battlecruiser HMS Hood , the so-called 'Pride of the Royal Navy', set sail for the North Atlantic in pursuit of the German battleship Bismarck, no one would have believed that the great ship would be sunk within a few minutes of the commencement of the engagement.
My interest in Hood was aroused when I met a former crew member who had served on her before the war; and also by of a friend of the family who  escorted the ship in a Lockheed Hudson aircraft on her final voyage. Most memorable for me was attending the annual HMS Hood memorial service at Boldre Church in the New Forest, the former home village of Hood's ill-fated Vice-Admiral, Lancelot Holland. There were only three survivors of the tragedy, and their relatives were kind enough to supply me with invaluable information, when it came to my formulating a theory as to why Hood had sunk on that fateful day, 24 May 1941.  
Triumph and Disaster At Sea: a Fascinating Saga of Absorbing Interest
'A fascinating and highly readable book.'
– This England
'This is one of the best… most engaging.'
– The Northern Mariner
Publisher: The History Press Ltd.
Publication Date: 01st January 2009
ISBN: 9781862274532
Cover types: Hardback, Paperback
You May Also be Interested In:
These Books