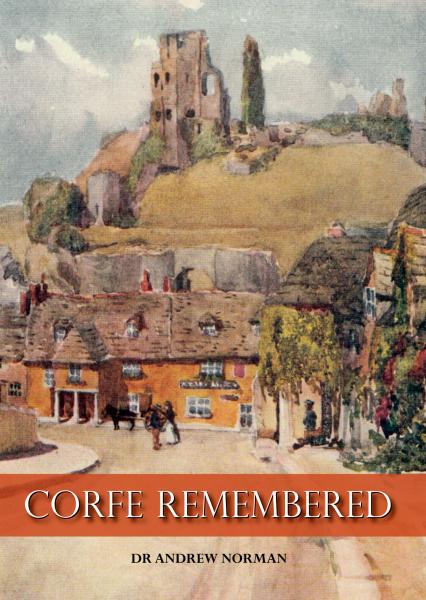 Corfe Castle is one of the most popular tourist destinations in Britain. Although a ruin, the remains of its once mighty keep are visible from Poole Quay – 6 miles distant, as the crow flies. Images of it appear frequently in newspapers and magazines.
On a misty day, or when silhouetted against the sky, there is an air of magic and mystery about it. The castle was a favourite of the infamous King John, and Lady Bankes defended it nobly for the Royalists during the English Civil War.
The village of Corfe is also of interest, with its seventeenth-century town hall – said to be the smallest in England – and which today houses a museum. There is also a model village and a railway, which offers the opportunity of a ride on a steam train. Quaint cottages and a peaceful common, where ponies abide, are also an attraction. Famous visitors include John Wesley,Thomas Hardy, and Kaiser Wilhelm II.
Over the centuries, many different sounds have echoed in and around Corfe and its castle: the war cries of Viking raiders; the moans of French knights as they starved to death in the castle's oubliette; the tap, tap, tap of medieval masons, as they fashioned pillars and effigies of Purbeck marble with their wooden mallets and iron chisels; the first steam train giving a hoot as it arrived at Corfe Station in 1885.
Finally, not so long ago, this was a world of horse and plough, performing bear, scissor and knife grinder, and muffin man. All this and more features in this fascinating new guide to the story of Corfe, one of the greatest glories of glorious Dorset.
Publisher: Halsgrove
Publication Date: 21st April 2017
ISBN: 978 0 85704 302 3
Cover types: Hardback
You May Also be Interested In: