Kindly Light:
The Story of Blind Veterans UK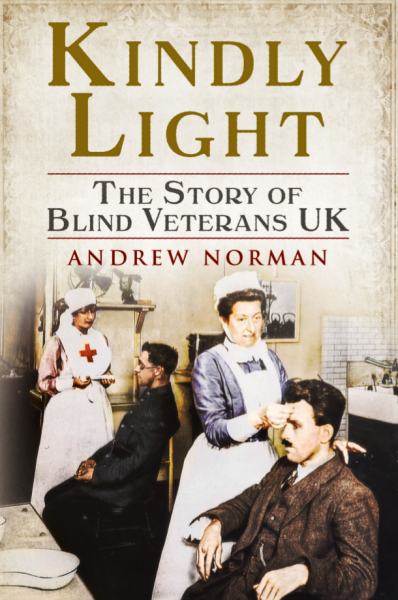 My grandfather, Thomas Waldin played an important part in my young life. I can see him now in my mind's eye, at work in his general stores in Winchester in southern England, which was the converted garage of my great grandmother's house. Here, he served his customers and when times were slack, repaired boots and shoes in the workroom at the rear.
I remember his kindness: how he invariably handed my sister, Jane and me a 'Sharp's' toffee or a stick of barley sugar whenever we paid him a visit; his cheerfulness; how he loved to play the harmonica and often sang to himself and whistled a merry tune, and never complained.
But most of all, I recall his sightless eyes, for Grandad was completely blind. And yet he could go on unerringly to the correct shelf and select the correct item when requested to do so; or hammer a tack into the leather sole of a boot in exactly the right place; or eat a meal without spilling a morsel. What was the little badge that he always wore on his lapel with its motif of a flaming torch and inscribed with the words 'St Dunstan's'?
It was not until seven decades after Grandad's death that I discovered the badge's significance. That St Dunstan's was an organisation, founded by that remarkable visionary, Sir Arthur Pearson (called the 'Father of the Blind') who was himself blind; who reached out in a truly wonderful way to Grandad Waldin, and to hundreds of other servicemen from many lands who had returned blinded from the trenches of the First World War.
Publisher: Fonthill Media
Publication Date: 24th September 2015
ISBN: 9781781553893
Cover types: Paperback
You May Also be Interested In:
These Books