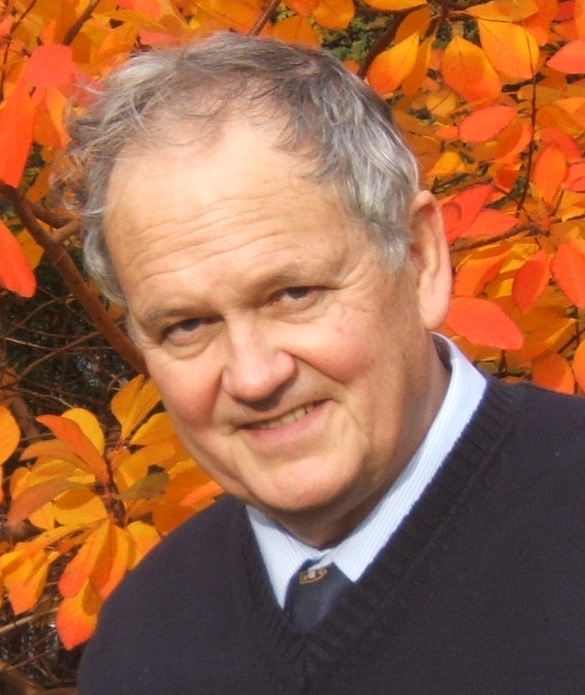 Born on 20 May 1943, Andrew spent his early childhood in Winchester, Hampshire. Winchester was also the home of his mother Jean's family. Her father Thomas Waldin, had been blinded at Ypres during the First World War, and on the shelves of his home was an illustrated encyclopaedia of that terrible conflict; in ten volumes. One day, he would feature as the hero of Andrew's book, A Brummie Boy Goes to War. However, for Andrew the path to authorship was far from smooth, and it would be some time before he found his true vocation.
In the early 1950s the family (his mother Jean, father Chris, and younger sister Jane) relocated to Lichfield, Staffordshire where his father had been appointed headmaster of a boarding school. Primary school in Litchfield was a great joy. Here, under the watchful eye of his beloved teacher Miss Harrison, he was enthralled by the Bible stories: learnt them by heart; and always came top in religious education. And, was not Lichfield the birthplace of Dr Samuel Johnson, compiler of the very first comprehensive English dictionary? Both Andrew's parents embraced English literature, and his mother read nursery stories to him, whilst his father recited poetry.
Andrew himself has always had a love of reading, and during a brief period when he attended preparatory school, he read Enid Blyton books at night, under the bedclothes and by the light of a torch. However, he was not amused when, on his 9th birthday, he received no less than three copies of Robert Louis Stevenson's Treasure Island!
Post-War Years
In the post-war years parcels would arrive from Canada, from his mother Jean's elder brother Peter, containing illustrated story books for him and his sister Jane. They featured grizzly bears; the Rocky Mountains; native Indians attired in all their glory, and their totem poles. Jean's younger brother David had joined the army and served with the intelligence services in North Africa during the Second World War. He related to Andrew something of his exploits, though because he had signed the Official Secrets Act, it was only years later that they learned how the 'Desert Rats' had been able to decipher enemy 'Enigma' signals almost as soon as the enemy transmitted them, and that David had also worked on code-breaking at Bletchley Park. As for Howard, Jean's youngest brother, he was sent to the mines as a 'Bevan Boy' during the Second World War, and from him they learnt of physical hardship, danger, and terrible accidents. Meanwhile, Andrew's Aunt Maud, had married a GI, who after the war, had taken her back with him to Kentucky. Realising the plight of Britain during the austere post-war years, Maud sent the family food parcels and presents of enamel ornaments featuring musical instruments of different kinds.
Experiences such as these served to fire the author's imagination, but in his younger days, he did not for one moment dream that one day he would become a writer. However, unbeknown to him at the time, many of the events described above would find a place in his books.
Moving to Rhodesia
In 1956 life changed dramatically when the family moved to, what was then, the British colony of Southern Rhodesia. Here, Andrew's father took up the post of headmaster at a co-educational boarding school for whites only. It is a truism that travel broadens the mind, and this experience would one day provide a source of material for books such as Robert Mugabe's Lost Jewel of Africa.
At Thornhill High School, Gwelo, Southern Rhodesia, pupils sat examinations set by the Cambridge Overseas Examination Board which, in its infinite wisdom, ordained that here, in the middle of Africa, students (Afrikaners as well as those of British origin) were to study the English industrial revolution and the military history of Scotland! The family returned to England in 1959, another headship having been offered; this time in Somerset. Andrew and his sister Jane, now commenced at Midsomer Norton Grammar School, from where he gained a place at Oxford to read physics.
On to Oxford University
Whereas for Andrew, and doubtless countless others, schooldays consisted almost entirely of sitting at an uncomfortable desk and being lectured by the teacher in a system of 'one size fits all', Oxford was a different proposition altogether. Here, students were treated as individuals and most importantly, taught to examine what they were told critically, and think for themselves.
Meanwhile, he had come to admire the works of several notable doctors-cum-writers from the past: notably A. J. Cronin's autobiographical novel, Adventure in Two Worlds; the amorous and amusing and adventures of Richard Gordon's, Dr Simon Sparrow; and above all, the exploits of Sir Arthur Conan Doyle's master detective, Sherlock Holmes. It was therefore no coincidence when, a year later, Andrew decided to change course and read medicine instead. And having qualified, he himself would become a detective – of medicine! But as always, life was not straightforward.
A Life Changing Injury
Having married, had two children, and worked as a general practitioner in the seaside town of Poole in Dorset for a period of 11 years, the author sustained a back injury, whilst twisting awkwardly one day on the beach. He was never able to continue in his chosen profession due to chronic sciatica.
Over the course of the next few years he was operated on successively, by three different surgeons at three different times, and at three different hospitals. Unbeknown to him at the time, all the operations were done in an inappropriate place – i.e. above the site of the problem, which was at L4/L5. To add insult to injury, he was not believed when he complained of ongoing pain and declared that none of the operations had worked. A divorce followed.
His First Published Work
Meanwhile, he was encouraged by his mother Jean, by now a widow, to take up writing. In fact, whilst he was recovering from his first spinal operation, she sat by his bed and lovingly typed out his first manuscript. Mother herself was a great raconteur, and well into her later years she enthralled the people of Wells in Somerset (where she lived in retirement) with her stories. Finally, in despair, Andrew contacted the hospital where he had been a medical student viz. Oxford's Nuffield Orthopaedic Centre, and yet another operation was performed, this time successfully, and at the correct level, where a 'slipped disc' was identified! But by now chronic damage to the sciatic nerve meant that he would thereafter always be in pain.
In 1999 a poem, written by the author, was published in People's Friend Magazine. This modest success acted as a catalyst, and soon afterwards his first book was published viz. By Swords Divided: Corfe Castle in the Civil War, an account, not without humour, of the heroic defence of the castle by Lady Bankes during the English Civil War. There followed the publication of several more of his works, and some improvement in his back condition. When Andrew remarried in 2005, this was a great joy to him, after all the years of pain, despair, and relative isolation on account of him being largely housebound.
Touring and Speaking
In 2006 Andrew was invited to Harrogate (where the Yorkshire Post was hosting a literary lunch) to give a talk on Agatha Christie, whose strange disappearance for 11 days in 1926 had provided the source material for another of his books. Fellow speakers were Ben Fogle and Ann Widdecombe. (James Cracknell was unable to attend.) Agatha Christie: The Finished Portrait, and Agatha Christie: The Disappearing Novelist, also prompted invitations to be interviewed by National Public Radio in the USA, and to participate in a drama documentary produced by European culture TV channel Arte, entitled Agatha Christie versus Hercule Poirot (which is currently available on Sky).
Motivations
What motivates a person to write? In Andrew's case, the trigger is often a feeling that something about the subject in question has been hitherto unexplained. For example, what possessed T. E. Lawrence to retreat into the lower ranks of the armed services, having achieved great fame as 'Lawrence of Arabia' (see T. E. Lawrence: Tormented Hero)? How was it that Conan Doyle, who invented the character of that eminently sensible and logical person 'Sherlock Holmes', actually genuinely believed in fairies? (See Arthur Conan Doyle: The Man Behind Sherlock Holmes.) Why did Jane Austen never marry, and what was the cause of her premature death at the age of 41? (See Jane Austen: Love is Like a Rose.) Why do so many of the theories about why dinosaurs (a current project) became extinct not make total sense, and what was the real reason?
Andrew dearly loved both his parents, but if his father had a fault, it was that he tended to be hypercritical, which is perhaps not surprising, he being an educationalist. The outcome is that Andrew, in his writings, still feels he is trying to please his father, even though the latter is long deceased, and did not live to see even the publication of the his very first book.
Thank You
Finally, Andrew is delighted to have met so many wonderful people as a result of his writings, to whom for their help, enthusiasm, and encouragement, he is deeply grateful. For example: Gillian Baverstock the delightful elder daughter of Enid Blyton (see Enid Blyton and her Enchantment with Dorset); the highly competent Derek van der Syde, Robert Mugabe's former secretary (see Mugabe: Monarch of Blood and Tears); the amiable Fred White, who served on HMS Hood in the 1930s (see HMS Hood: Pride of the Royal Navy); the engaging Tony Benn, who kindly wrote the introduction to his account of the Tolpuddle Martyrs (see The Story of George Loveless and the Tolpuddle Martyrs); the charming Marya Egerton-Warburton, great-granddaughter of Sir Arthur Pearson, who founded St Dunstan's, an organization which gave hope to the blinded servicemen of the First World War, and continues today as Blind Veterans UK (see Kindly Light: The Story of Blind Veterans UK); the cricket-loving Christopher ('Baron') Baynes, designer of the world's first swing-wing aeroplane (see Purbeck Personalities); lover of Corfe Castle memorabilia Bob Richards, who watched in dismay from his signal box as the last steam train passed through the village, following cuts to the railway network (made on the recommendation of the Chairman of British Railways Dr Richard Beeching) and who was overjoyed when steam trains returned in 1995 (See Corfe Remembered).
Some years ago, Andrew's Uncle Peter, telephoned from Canada to say that, whilst visiting a small town in Arizona, quite off the beaten track, he had visited the library and there discovered a copy of Andrew's first published work, By Swords Divided. More recently, a friend visited the library of the University College of Los Angeles and found there no less than 11 of Andrew's titles. To think that people all over the world were reading and enjoying his books was a source of great joy to him. He recalled the motto of his former school in Africa: Per Spinas ad Culmina – 'Through Thorns to the Hilltop', and he could have wished for no greater reward.