Father of the Blind:
A Portrait of Sir Arthur Pearson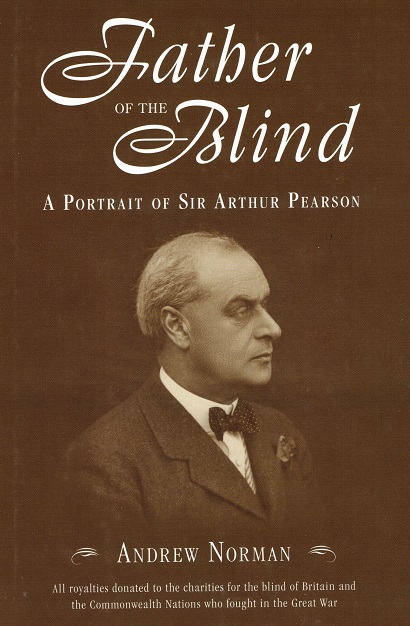 As a child, living in Winchester in southern England I spent much time at the house of my great-grandmother. She lived nearby with her son-in-law Thomas Waldin, a widower.
In this house, the name Sir Arthur Pearson was spoken of with reverence, as it was by my mother, Jean (Thomas's daughter) and Mother's three brothers. For it was Pearson who early in the year 1915 had visited my Grandad Waldin in hospital in London where he lay, having been grievously wounded and blinded on the Western Front. Pearson presented him with a Braille watch (which is now in my possession and which I treasure) and offered him a place at St Dunstan's Hostel for Blinded Soldiers and Sailors in Regents Park (now Blind Veterans UK), which he himself had founded.
Here, with practical help from trained instructors (most of who were also blind); with loving kindness dispensed by the staff, and in the company of their comrades in arms, the men were taught a trade (Grandad Waldin chose boot and shoe repairing) in order that they might regain control over their lives and, in Pearson's words, achieve 'Victory over Blindness'.
'This well-researched and highly readable book described the life and work of my late grandfather – Sir Arthur Pearson, founder of The Daily Express Newspaper. Sir Arthur is remembered for his many acts of charity, including the creation of the Fresh Air Fund For Children. However, he is chiefly remembered as the found of St Dunstan's, which gave hope and purpose to the blinded British and allied soldiers of World War I'
– Sally Hardy
All royalties will be donated to charities for the blind of Britain and the Commonwealth Nations who fought in The Great War.
Publisher: The History Press Ltd.
Publication Date: 01st June 2009
ISBN: 9780752451824
Cover types: Hardback
You May Also be Interested In:
These Books